What a marvelous night it was at Clyde Frazier's Wine and Dine awarding and connecting with impactful women who are comfortable being unapologetically, fiercely HERself. The outfits and makeup  of the honorees and guests were absolutely gorgeous!  Classic R&B filled the air, honorees showed off their looks on the pink carpet, guests took fun photos at Dash Events photo booth, enjoyed drinks  sponsored by Papi Wines and HH Bespoke Spirits and delicious hors d'oeuvres.
---
Drink Menu
PRETTY BOSSY
Papi Cognac,  Raspberry Liqueur, Triple Sec, Lemon Juice and Sugar Rum
ICONIC
HH BeSpoke Gin, Orange and Cranberry Juice
GET MONEY COCKTAILS
Vodka with Natural Lemon Flavor / Tequila with Natural Lime Flavor/ Gin with Natural Lime Flavor
TENÉ TINI
HH BeSpoke Vodka, Malibu, Lime and Cranberry Juice
PINK POW(H)ER
HH BeSpoke Rum, Fruit Juices and Grenadine
PAPI WINES
Sangria, Prosecco/ Sparkling Rose/ Sauvignon Blanc/ Moscato/ Merlot/ Cabernet Sauvignon
---
HORS D'OEUVRES
(Left to Right) Lobster White Chedder Mac & Cheese,  Falafel in Pita Bread,  Avocado toast with/without Sunnyside Up,  Vegetable Spring Rolls,  Beef Sliders with ultra thin potato chips and beer in mason shooter.
---
After the light eating, drinking and mingling, around 8pm everyone sat at their assigned tables with gift bags on the chairs loaded with goodies from the sponsors – Google, Dosha: Organic Fruit & Seed Bar, Urban Hydration, Harlem Skin & Laser Clinic, Best Kept Jewelry, Instasmile: Clip on Veneers, Instylish, I Am Goddess Body Studio, Condition Her, Smash Marketing, Ayars Agency,  DKR Group LLC, Rumi Spice, Lasio Professional Hair Care, Unforgettable Favors, Farrah's Closet, Mello: CBD Caramels, Natalia Me-gan Hair & Beauty, Pinkroot Hair Products, Vivienne O'Neill Designs, and Curlee Girlee.
First course/appetizer came out and the program began – see below. Each presenter made sure everyone knew how resilient, magnificent, powerful, dedicated, humble, and kind the honorees are with gratitude, grace and humor. Hearing the uplifting, encouraging words from the presenters, their strong determination to make changes and tangible advice from the honorees, it was crystal clear you were among talented, BRAVE women who loved the power of sisterhood and bulldoze obstacles away the best way they can to make positive change.  You felt SAFE to connect with them after the night was over to share your highs/lows and ask for assistance in whatever you needed. Yes, it was a powerful sisterhood atmosphere!
---
***MENU***
FIRST COURSE
Jumbo Lump Crab Cake, Corn Salad and Smoked Chipotle Sauce
SECOND COURSE 
Orecchiette with Asparagus and Vodka Cream Sauce
OR 
8 oz Filet Mignon, Grilled Shrimp, Lobster Beurre Blanc, Spinach, Garlic Mashed Potatoes and Red Wine-Shallot Sauce
THIRD COURSE
Beignets
Chocolate and Vanilla Dipping Sauces
---
***PROGRAM***
WELCOME MESSAGE
Patricia James, Vice President of Clyde Frazier Enterprises
OPENING GREETING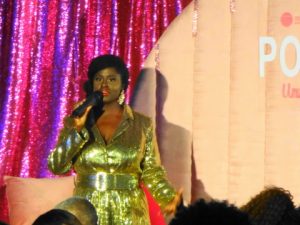 Charreah Jackson, Award-Winning Journalist, Author and Coach
MUSIC SELECTION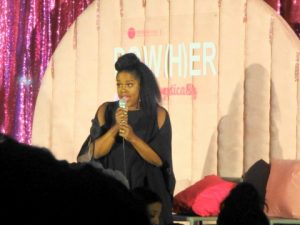 Esnavi, Recording Artist 
SPONSOR MESSAGE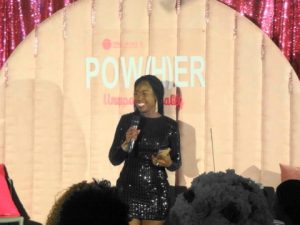 Jui
Psyche Terry, Founder of Urban Hydration
AWARDS PRESENTATION 
 Presenter Soledad O'Brien
Woman of the Year in Media Tamron Hall
Presenter Michele Thornton-Ghee   
Woman of the Year in Diversity and Inclusion  Tiffany R. Warren
Presenter Angel Rich
Woman of the Year in Technology Monique Idlett-Mosley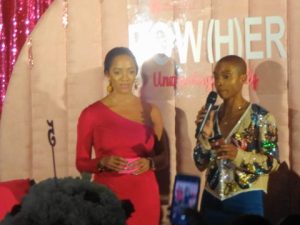 Presenters Rachelle Daglis & Victory Jones (The Colored Girl)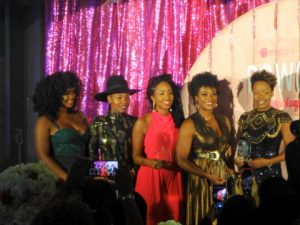 Women of the Year in Innovation (left to right) Simone Mair, Gia Lowe, Tracey Coleman,  Charisse Higgins, and Melody Henderson (Curly Girl Collective)
Presenter Tamika D. Mallory
Woman of the Year in Social Justice Yandy Smith-Harris
SPONSOR MESSAGE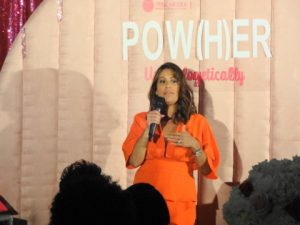 Nadine Ramos, Founder of LASIO: Professional Hair Care, Keratin Lounge
CLOSING REMARKS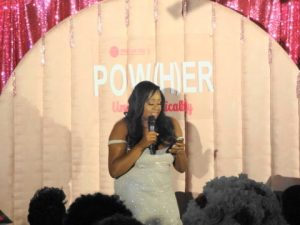 Nikkia McClain, Founder of Tené Nícole: Marketing and Public Relation, Creator of #SupportYourGirlfriends and PowHer Awards
---
---
Every guest enjoyed the  worth-attending awards dinner.  The servers and bartenders served with such elegance and patience.  The table set up was beautiful and the space was intimate. Such a successful night! To be informed of the next awards dinner,  follow Nikkia McClain, her company Téné Nicole and/or her community #SupportingYourGirlfriends via Instagram.